The DCI of Sam's division in the Manchester Police. Gene Hunt is based on the character Regan from 'The Sweeney'. Although his methods are questionable, he always tries to get the right man, and is more dedicated than many of the other DCIs and detectives.
In Life on Mars
During Life on Mars, Hunt is in command of Manchester and Salford Police's A-Division CID.
Throughout the programme Hunt is respected by the characters under his command, mainly Chris Skelton and Ray Carling. During the two series, Hunt often uses unnecessary force while making arrests and conducting interviews, along with practising "noble-cause corruption" demonstrated by his fabrication and falsifying of evidence in order to secure convictions and never for personal gain. In response to this, he has been referred to as an "old style cop" and "maverick". Hunt also believes that there is a "very fine line between a criminal and a copper".
Hunt often clashes with Sam Tyler, the protagonist of the series. Eventually, during the second series their relationship improves and they become friends.
In Ashes to Ashes
Gene Hunt returns, this time in the Metropolitan Police in London with the same team (minus Annie and Sam, plus a new WPC Shaz Granger).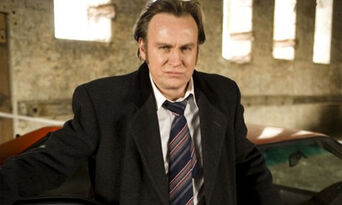 He is joined by Alex, a character like Sam from the future, who was shot and sent back to 1981.
Although Gene has clearly taken on Sam's influance, and is a little more modern, he is often described as a Dinosaur, that's about to outlive his welcome.
Like Sam, he grows an attatchment with Alex, but this time of a more romantic nature. He spends the series arguing and trying to chat her up. The series ended, as many fans believe in a disapointing way, Alex and Gene merely sharing a single kiss before Alex leaves him to pass with the others into the next light.
Gene Hunt is very much a tragic character, cursed to stay on in the purgatory like world, alone if he has to.
Previous Life
Like all the other characters, Gene is a dead police officer from the same universe as Alex and Sam.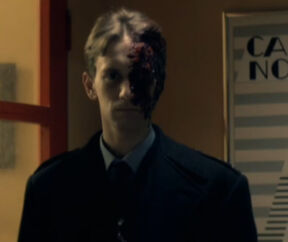 He was killed in 1953 as a young constable, upon discovering an armed burglar. Hunt characterizes his younger self as "skinny," headstrong and full of male bravado; he confesses that he'd completely forgotten about his past.
His younger self appears to Alex in the third series to haunt her, though it is not until the end that she realises that this is Gene. His body is discovered where Alex believed Sam to be burried.
Gene however does not move on like the others, but remains in purgitory with the duty of guiding the others to the next life.