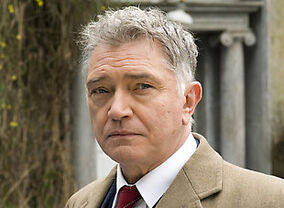 Played by Martin Shaw, Detective Chief Inspector George Gently moved up to Northumberland after the death of his wife in a deliberate hit and run incident.
In Inspector George Gently
He is an experienced detective, with knowledge from "The Met"(slang for the London Metropolitan Police), but with more moral sense than most officers of his time from the Metropolitan Police Service.
To Gently crime is very much black and white. The right and good are those within the law, those that break laws are wrong. This is something his Sergeant, John Bacchus, sometimes finds hard to understand - namely in Goodbye China when Gently arrests a man for avenging his autistic son.
Gently takes it upon himself to lead the easily mislead Bacchus in the right direction, sometimes displaying a sort of fatherly bond with him.