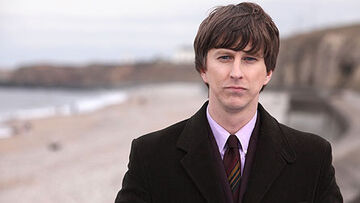 DCI Gently
's young Sergeant. Bacchus and Gently don't always see eye-to-eye, but they are an unbreakable team.
In Inspector George Gently
Edit
Bacchus' mother is dead, and it is unknown what the relationship with his father is. For the first few series he was married to the Chief Superintendent's daughter, and has a little girl himself.
After their divorce, his ex-wife protests to him seeing his daughter because he doesn't know how to take her out for fun days and just buys her presents instead. The marriage was out of wedlock after John impregnated her  and her father forced them to marry.
Bacchus has his heart in the right place, but he usually lets it rule his head. He has a more flexible opinion of the law than his Inspector.
Being young, he is vulnerable to those around him. His first DI tries to convince him that Gently is setting him up in the pilot episode. He has an occasional tendency to behave in an immature manner and sulks.
Even so, there have been strong developments in his character over the series.