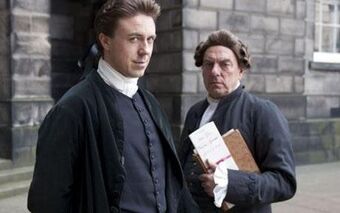 Based on the true case files of William Garrow (1760 - 1840). Garrow is a young barrister fighting for justice and equality in The Old Bailey.
Main Story
Under the watchful eye of Mr Southouse, Garrow begins his occupation as a barrister. He is successful in most of his cases, and is considered something of a revolutionalist.
He falls in love with Lady Sarah Hill, wife of Sir Arthur Hill. He is then dragged into court himself being represented by his usual enemy Silvester, over the claim made by Sir Arthur that Lady Sarah's baby in not in fact his, and that she commited adultary with Garrow. Although Sir Arthur wins the case he is humiliated, and Garrow is only fined one Guinea.
He makes many enemies in his work including Viscount Melville, who is truly the one pulling all the strings around The Bailey and in Sir Arthur's life.
Characters and Cast
William Garrow - Andrew Buchan
Mr Southouse - Alun Armstrong
Lady Sarah Hill - Lyndsey Marshal
Sir Arthur Hill - Rupert Graves (Also plays Lestrade)
Silvester - Aidan McArdle
Judge Buller - Silvester
Episodes
Series 1
Episode
Original Air Date
Viewing Figures
Episode 1
1 November 2009
4.98 million
After losing his first case of defending a highway robber, idealistic barrister William Garrow is instructed to defend a serving girl accused of infanticide of her own baby at childbirth.
Episode 2
8 November 2009
3.92 million
Garrow, now a celebrated Old Bailey barrister defends the case of a man accused of being the infamous London Monster, responsible for stabbing several young ladies in London. Newspaper proprietor John Julius Angerstein offers a reward for the killer being brought before the courts.
Episode 3
15 November 2009
4.47 million
After more derision from Silvester, Garrow is spurred on to successfully defending Edgar Cole who is clearly guilty of raping a servant. This disgusts Lady Sarah and Southouse and matters become worse when Garrow fights a pistol duel with Silvester.
Episode 4
22 November 2009
4.12 million
Joseph Hamer is accused of treason and Garrow has the task of defending him against false evidence and a government determined to see him hanged. This episode appears to be based on the 1795 trials of Thomas Hardy (the first secretary of the London Corresponding Society) and John Horne Tooke, in which Garrow was the prosecutor who failed to secure a conviction. Thomas Erskine defended.
Series 2
Episode
Original Air Date
Viewing Figures
Episode 1
14 November 2010
5.68 million
When 133 slaves are thrown off a slave ship after its water supply runs low, Garrow takes on the brutal slave trade that regards human beings as cargo when he is employed by Liverpool Assurance to prosecute the ship's captain for a fraudulent claim of £4000 for loss of cargo. He is aided by anti-slavery campaigner Gustavus Vassa. (In history the insurance company refused to pay out, but the captain died shortly after and so was not put on trial.)
Episode 2
21 November 2010
5.34 million
Garrow defends a man, Captain Jones, of the capital offence of sodomy but the client and witnesses prove unreliable mirroring accusations fabricated against himself and Lady Sarah.
Episode 3
28 November 2010
5.52 million
Garrow defends a British sailor imprisoned in Newgate for exposing ill treatment of sailors at the Greenwich Hospital by attacking the Admiralty and in particular its undersecretary Sir Arthur Hill, Lady Sarah's husband. At the beginning the episode also refers to the story of the celestial bed.
Episode 4
5 December 2010
5.37 million
Garrow is in the dock accused by Sir Arthur Hill of 'criminal conversation' (adultery) with his wife Lady Sarah. The evidence against him is a combination of half truths, invention and lies, but with the moralistic Judge Kenyon, a censorious public, and Silvester's offer to defend him the truth may not be enough.
Series 3
Episode
Original Air Date
Viewing Figures
Episode 1
13 November 2011
5.51 million
Taking on the case of James Hadfield, who is charged with high treason for attempting to assassinate King George III, Garrow tries an insanity defence though Hadfield does not fit the legal standard.
Episode 2
20 November 2011
5.05 million
Garrow's defence of two Spitalfields silk weavers charged with industrial sabotage becomes complicated when one turns King's Evidence against the other. Southouse falls ill with gaol fever.
Episode 3
27 November 2011
4.77 million
While prosecuting Thomas Picton for approving the use of torture as governor of Trinidad, Garrow is offered a deal by Lord Melville in exchange for helping Lady Sarah gain custody of her son. Southouse's condition takes a turn for the worse and he advises Lady Sarah to take her son from Sir Arthur's home.
Episode 4
4 December 2011
4.08 million
Garrow successfully defends a man falsely accused of murder at a polling day riot. Approached by the victim's daughter Garrow agrees to find and prosecute the real murderer putting himself in grave danger from the man's colleagues and chief magistrate of the constabulary. Lady Sarah seeks documents to discredit Lord Melville and legally regain her son.
Trivia
Andrew Buchan (Garrow) and Lyndsey Marshal (Lady Sarah) would remain in character between takes, even if only for their own amusement.
Less than a hundred feet from the Garrow's Law studio stands the permanent exterior for Glasgow soap opera River City.
Many stars of Peter Mullan's film Neds were given jobs as background artists to keep them out of trouble until filming began.
While cameras weren't rolling Michael Culkin, who plays Judge Buller, entertained the nearby actors and extras with amusing and extreme stories of his personal adventures. The tales quickly made their rounds through the lower ranks and left some background artists in stitches or in a momentary state of shock.
References