Identity
is a British
police procedural
drama
televisio
n series starri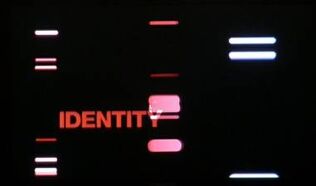 ng
Aidan Gillen
and
Keeley Hawes
, airing in the UK during July–August 2010. Concerning
identity theft
, the series was created and written by
Ed Whitmore
, a writer most noted for his work on the BBC's
Waking The Dea
d and the acclaimed
IT
V mini-series He Kills Coppers. The remake rights have been sold to the ABC Network in America who are developing their own version of the show. ITV confirmed that the show had been cancelled on 19 October 2010, after a single series.
Plot
The Identity Unit led by D/Supt Martha Lawson, the founder of the unit, specialises in cases concerning identity fraud by outsmarting, hunting down and unmasking the modern day Jekyll and Hydes.
Martha takes a risk in employing DI John Bloom, an SO-10 officer who has just spent 15 years undercover. He knows first hand what it's like to pretend to be someone you are not. He's also only too aware of how easy it is to lose your own identity when you've lived a lie for the previous 15 years as a Dublin money launderer and bagman for the Turkish mafia and the past will not go away.
Completing the team are Tessa Stein, IT expert in everything from trawling databases to cracking security codes, DS Anthony Wareing who has his eye on promotion and a stance on cases that can err on the self-righteous, and DC José Rodriguez cocky, self-assured yet with a seriousness and sensitivity that gives him insight into cases.
As the series unfolds, DS Wareing becomes more and more concerned about Bloom's methods and frustrated by what he sees as Martha's blind and foolish indulgence of him.
Cast and charactersEdit
Aidan Gillen as DI John Bloom
Keeley Hawes as Detective Superintendent Martha Lawson
Holly Aird as Tessa Stein
Elyes Gabel as DC Jose Rodriguez
Shaun Parkes as DS Anthony Wareing
Patrick Baladi as Assistant Commissioner Hugh Wainwright
Episode listEdit
Episode #
Title
Directed by
Written by
Original airdate
Viewers (millions)[2]
1
"Second Life"
Brendan Maher
Ed Whitmore
5 July 2010
6.37
Justin Curtis claims to have had his identity stolen when he stands accused of a hit and run accident. He names "Smith" as the thief and it is the Identity Unit's task to prove he exists.
2
"Chelsea Girl"
Brendan Maher
Ed Whitmore
12 July 2010
4.56
The Identity Unit investigate the murder of Olivia Knighton in Australia, when hours after her death records show another woman using her passport to enter the UK to fulfill a psychological need from her childhood. Identified as the mentally scarred Jane Calshaw they have to find her father and his new fiancée in order to work out what she's got planned.
3
"Pariah"
Brendan Maher
Ed Whitmore
19 July 2010
4.77
Amy Quilan and her son Sam - on a witness protection scheme after her husband kidnapped, ransomed and killed a seven year old girl are exposed on the internet and are placed in grave danger. The Identity Unit investigate and find everybody involved are working to their own agenda.
4
"Reparation"
Andy Hay
Edward Bennett
26 July 2010
4.18
The Identity Unit have to prove an Indian businessman, with a dubious past, lying in a guarded sick bed is who he is claimed to be when he is about to sign a major government deal worth £50 million.
5
"Somewhere They Can't Find Me"
Andy Hay
Edward Bennett
2 August 2010
4.03
A respectable woman, admitted to hospital following a traffic accident, has the DNA of a woman terrorist missing for the last 25 years. When she escapes from hospital the Identity Unit have to track her down; but her past life is more complicated than they suspect.
6
"Tomorrow Comes Early"
Andy Hay
Ed Whitmore
9 August 2010
4.03
Bloom's past undercover life catches up with him when a mass grave containing the body of a Turkish mafia boss whose killing he was involved in is discovered. The Identity Unit are tasked with the job of identifying the victims.