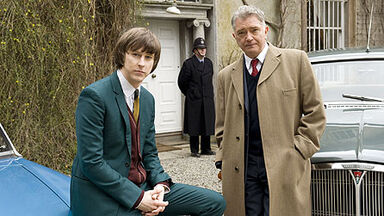 Set in the Northumberland in the 1960s, before abortion and Homosexuality was legal in the UK and the death penalty was still in use.
Main story
George Gently is a Detective Chief Inspector in London before his wife is killed in a deliberate hit and run incodent. He moves up to Northumberland to persue his wife's killer and is paired with the eager young Detective Sergeant John Bacchus.
There are many controversial cases that show a conflicting moral sense of what actions are right and wrong, regardless of what side of the law they are on.
The cast is occasionally joined by China, an informant of Gently's who is murdered in Series 4.
Characters and Cast
Episodes
Pilot
Episode
Original Air Date
Viewing Figures
George Gently
8 April 2007
6.33 million
Following the murder of his wife by notorious gangster Joe Webster, Inspector George Gently is pondering retirement. When he hears about a murder in Northumberland that sounds like Webster's handiwork, he delays his retirement to take on this one last case. Paired with local DS John Bacchus, he must track down Webster, while at the same time trying to deal with his headstrong young assistant and keep him on the straight and narrow.
Series 1
Episode
Original Air Date
Viewing Figures
The Burning Man
13 July 2008
4.80 million
After an unidentified badly burnt body is found near an RAF base, Gently works alongside Special Branch officers who suspect the victim was involved with the IRA. However, the discovery that a large cache of guns has gone missing turns the case into a hostage situation.
Bomber's Moon
20 July 2008
4.59 million
When the beaten body of wealthy German businessman Gunter Schmeikel is discovered in the harbour, Gently and Bacchus are forced to consider whether a barman's anti-German sentiments are a motive for murder. However, the case takes a sinister turn when a key witness to Schmeikel's death is revealed to be a killer trained by Army Special Forces.
Series 2
Episode
Original Air Date
Viewing Figures
Gently with the Innocents
3 May 2009
6.47 million
When an old man is killed in his dilapidated mansion, Gently and Bacchus dig deeper into the history of the former children's home and soon have their prime suspect, Harry Carson, a man who once lived there. But it becomes clear that some of the locals, including property developer Cora Davidson, have something to hide.
Gently in the Night
10 May 2009
5.81 million
Bacchus and Gently hunt for the murderer of a woman whose body is discovered in a local church. As the investigation progresses, it turns out the victim was a waitress working at the first hostess club in Newcastle - a club that has greatly upset the local religious community.
Gently in the Blood
17 May 2009
6.02 million
Bacchus and Gently investigate a consignment of stolen passports, but the case takes an unexpected turn when a woman linked to the crime is found dead on the seashore with her mixed-race baby lying next to her. As the cops follow a lead on the murder victim's ex-boyfriend, they encounter racial prejudice and are drawn into an underground world of gang wars within the Arab community.
Gently Through the Mill
24 May 2009
5.17 million
Bacchus and Gently arrive in a small town to investigate when a mill manager is found hanged in what seems to be a suicide case. However, the detectives begin to suspect foul play as they discover money has gone missing and the widow reveals her husband was having an affair.
Series 3
Episode
Original Air Date
Viewing Figures
Gently Evil
26 September 2010
5.93 million
A young woman's body is found in a seemingly idyllic Northumberland coastal village in 1966, and the subsequent investigation leads Gently and Bacchus to suspect the victim's estranged husband is responsible for the killing. However, they soon come to realise her disturbed family is hiding an even more shocking secret.
Peace and Love
3 October 2010
5.52 million
In the summer of 1966, the Northumbrian police come under increasing media scrutiny, as Sunderland prepares to host a World Cup match involving the USSR, while campaigners protest against the proposed landing of the Polaris nuclear submarine at Jarrow docks. When an academic is found dead after a CND rally, Gently and Bacchus are dispatched to Durham University to investigate his background - and find themselves in the midst of a wave of social and sexual rebellion.
Series 4
Episode
Original Air Date
Viewing Figures
Gently Upside Down
4 September 2011
7.09 million
A schoolgirl's killing brings Gently into the alien world of pop and media celebrity when it turns out the victim's best friend is a rising TV star. Bacchus suspects the dead girl's music teacher, since rumours persist that she was having an affair with him. But when it seems everyone has a different opinion of the girl, Gently must uncover these different faces to get to the truth of her murder.
Goodbye China
11 September 2011
7.20 million
The detective looks into the suspicious death of old friend and informant China, when he is told conflicting reasons for the man's demise by the coroner and the nurse who tended him in his final few hours. The investigation leads him to the local police station, where it becomes clear the officers are hiding something - and to complicate matters, the disappearance of a teenage boy is also linked to the case.
Trivia
Alan Hunter's George Gently novels are set in East Anglia, around the area in Norfolk where he grew up, but the TV series is set in County Durham and is filmed in Ireland.
References