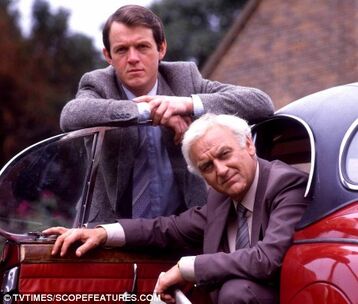 Airing between 6 January 1987 and 15 November 2000, Inspector Morse is one of the most popular British Crime Dramas ever to have aired. The last episode saw 20 million people tune in.
Main Story
DCI Morse played by John Thaw is a detective at Themes Valley Police, with his Sergeant, Lewis. Like the sequel, Lewis, it is a drama investigating murders in Oxford.
The cases usually have an intellectual turn, making Morse's Oxford Education useful. When Morse isn't investigating murders he is often asking out potential suspects or colleagues. Sometimes when he falls in love wth a woman, they often turn out to be the killer.
Characters and Cast
DCI Endeavour Morse - John Thaw
DS Robbie Lewis - Kevin Whately
Chief Superintendent Jim Strange - James Grout
Max de Bryn - Peter Woodthrope
Dr Grayling Russell - Amanda Hillwood
Dr Laura Hobson - Clare Holman
Episodes
There are 33 episodes of Morse and 7 series. All the episodes averaged 10 million viewers, with the last episode bringing 20 million British viewers to the television screen.