DI Jackie Reid
is a
fictional character
in the ITV series
Taggart
.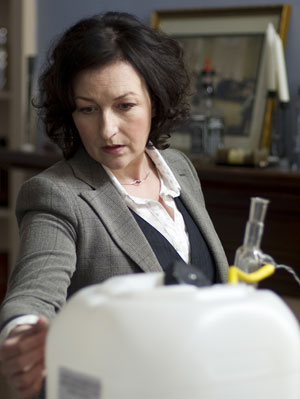 WPC Reid made her first appearance in 1990 in
Death Comes Softly
. In 1994 Jackie was promoted to Detective Sergeant much to the dismay of
Jim Taggart
. She is the longest running character in the show.
StorylinesEdit
In the Taggart episode "A Death Foretold" in 2005, Jackie's ex-husband Brian Holmes (Brian Cowan) died of terminal cancer while Jackie was by his bedside. They married on 1 January 2001 and divorced in 2003. Their divorce came out in "Halfway House" when DC Stuart Fraser (Colin McCredie) told DI Robbie Ross (John Michie) that they had separated and filed for divorce. She is from the fictional village of Garsden in Lanarkshire.
Jackie is still currently with the Taggart investigation team and is planning to stay for as long as it takes. She was trained in self-defence, which is why she defended herself both times when she faced deadly confrontations with two killers. In "Penthouse and Pavement" in 2003, she caught the person that killed Jason Randall and Debbie Thompson and the killer tried to attack her, but she banged his face against the shutters of a shop repeatedly, leaving him with a bloody nose. Then in "Lifeline" in 2008, the killer broke into Jackie's home unexpectedly when she came home from buying dinner for one. They discussed the past and why he was after her. He tried to grab her to attack her, but she grabbed his arm, and twisted it, leaving him badly injured on the floor, weeping. He killed Laurence Carpenter, Derek McGrath and Philip Taylor, each in separate ways. Although they all involved cars.