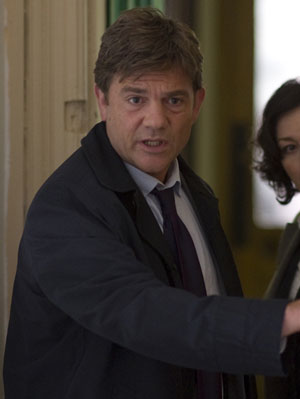 An incorrigible rogue, D.I. Robbie Ross, played by John Michie, has won the hearts of many female Taggart fans for his good looks and charm, but his unorthodox methods are not to everyone's taste. D.C.I. Burke has a soft spot for Ross despite his sometimes gung-ho approach, but as Robbie's drinking, gambling addiction and connections to Glasgow's underworld begin to affect cases he threatens to cross the line. Can Burke really risk his own reputation by continuing to defend him?
A confirmed ladies' man, Ross has no problem attracting female attention, but sometimes his involvement with suspects complicates matters and despite his good looks he seems unable to build any lasting relationships. Viewers have often wondered whether the tension between Ross and Reid will develop into something more meaningful; could Jackie be the woman to tame him?
Ross joined the force after D.I. Michael Jardine was promoted to D.C.I., quickly becoming a central character and sparking ongoing debate among fans. Walking a thin line between right and wrong, is Robbie a bent detective or just one willing to bend the rules to get results?
A bit of a wild card, he is undoubtedly dedicated and willing to do whatever it takes to bring in his man, however his tendency to fly in the face of authority hasn't earnt him many brownie points with senior police figures and if he's not careful he will be demoted to D.S., or worse, suspended.